Check out current PMBC Outreach Volunteer Opportunities!
---
Interested in joining one of our Ministries or Teams? Great! We need you! Please complete the form below and someone will contact you from your ministry of choice. To find out more about each PMBC Ministry, click here.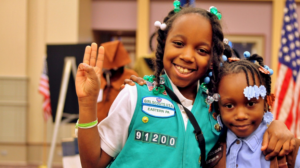 Providence welcomes its very own Girl Scout Troop!  We are seeking volunteers, both male and female, who are 18 years of age and up.  Your time and talent is needed.  Volunteers must be willing to commit to a background check through Greater Atlanta Girl Scouts, pay yearly membership, commit to meetings, activities and outings. Our Girl Scout Kickoff for interested scouts and volunteers will be Saturday, Saturday, September 17th 10am-12pm.  Please contact Julie Hodo (404) 444-4963 for more information.