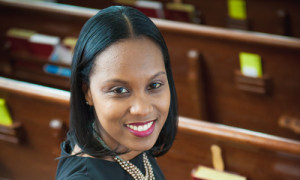 Reverend Khalia J. Williams is the ecstatic and supportive wife of Rev. Dr. Damon P. Williams, Senior Pastor of the historic Providence Missionary Baptist Church in southwest Atlanta, Georgia. She is an ordained minister and liturgical artist, and a current Ph.D. candidate at Graduate Theological Union in Liturgical Studies with a focus on worship, theology, and dance performance. Her previous academic achievements include an M.A. in Theological Studies (Columbia Theological Seminary), MBA in International Business (Nova Southeastern University), and B.S. in Business Administration (Florida Memorial University.)
A native of Los Angeles, CA, Rev. Williams is a professionally trained classical ballet and modern dancer, and answered her call to the ministry of worship and arts at the young age of nine years old. In 2006, Rev. Williams founded Trinity Praise Dance Company, a Miami-based Christian dance company focused on spreading the gospel and empowering the nations through the arts. Over the years, churches and conferences throughout the country and abroad have called upon her gifts as a liturgist and liturgical dance artist. She is sought after for her ability to train dancers and to teach ministries in the areas of worship planning, leadership, and the integration of worship and the arts. Rev. Williams greatly impacts the Christian dance community with her desire for technical integrity, passion and Christ-centered ministry.
In addition, Rev. Williams has spent several years in the corporate sector as a consultant in human resources management and executive recruiting. She has also served as an adjunct professor at Columbia Theological Seminary where she taught in the area of worship, as well as womanist, feminist, and African American studies. Currently, Rev Williams is the Assistant Dean of Worship and Music and an Assistant Professor in the Practice of Worship at the Candler School of Theology at Emory University.
As First Lady at Providence, Rev. Williams is instrumental in leading the women's ministry, where she ministers to the women of our church and community through service, outreach and spiritual development. Rev. Williams also continues to mentor young women across the country, and in all her endeavors, she is driven by her passion to empower the people of God to reach their full potential in Christ.
Pastor Williams and First Lady Williams are the proud parents of two sons, Thomas Christian and Ethan Miles.